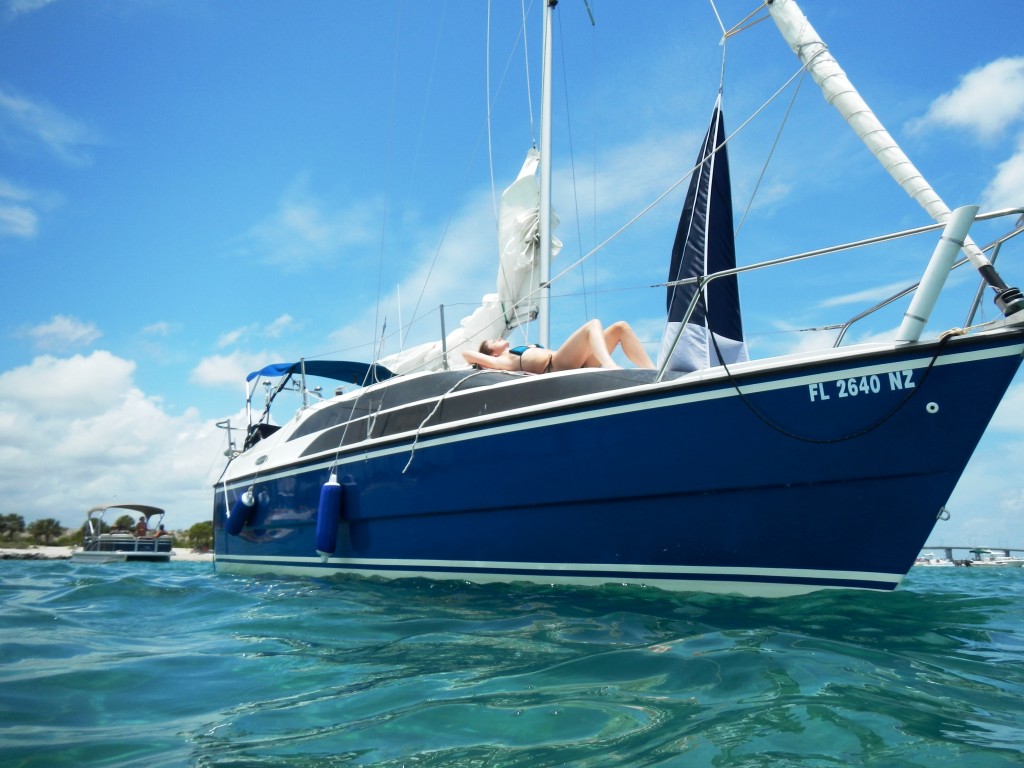 **Update** – To listen to a sailing podcast we did about our boats go here.
Our boat is a 2010 MacGregor 26M named Wiki Honu.  It has been a great boat and gives us the flexibility to have a variety of sailing and motoring experiences.  Sailing critics say it does not sail as well as other sailboats and power boaters say it does not motor as well as dedicated power boats, but we disagree.  We think it does both very well and for us it is the perfect combination.  We usually spend over 30 nights a year on the boat, and we find it a very comfortable and capable cruising boat.  We regularly sail at 4-6 knots, but if the wind dies, the boat motors great.  We have a 50 hp Honda four stroke engine that will push the boat fully loaded with ballast at 6 knots all day burning under .5 gal/hr.  2500rpm gives a fast cruise of 7 knots, still burning less than a gallon/hr.  If the water is calm, we can take the 1200lb water ballast out and we get on plane at 13 knots and max about 15 knots.  We have two 12 gallon gas tanks, so we get good range.  Florida summers are hot, so we do a lot of motor sailing in summer to create a nice breeze.  With the sails up and the engine just above idle, you can barely hear the engine and we can cruise all day at 5 knots.  We have also used the boat to go on local lake cruises with our power boating friends.  We just leave the mast at home, and it becomes a very comfortable, efficient cabin cruiser that allows us to get under low bridges.  The boat is stored five minutes from our house for less than $60/month.  We pull the boat with a basic 2001 Dodge Dakota V8 that has a hole in the muffler, just the right size to give that custom exhaust sound.  Steve is too cheap and too cool to fix it.  We get about 9.5mpg pulling the boat fully loaded at 60mph.
We also love the shallow draft capabilities.  With our daggerboard up, we draw as little at 18″.   This allows us to worry less about exploring shallow bays or pulling up to a sandy island along the coast.  It also opens up areas of the anchorage avoided by others with deeper draft.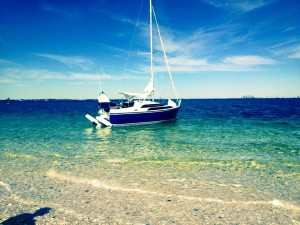 Since we sleep on the boat often, we like that it has a queen size bed under the cockpit.  This was a big upgrade from our previous boat that required the table to be lowered each night to make our bed.  Now the bed is always made so no major prep work for bedtime.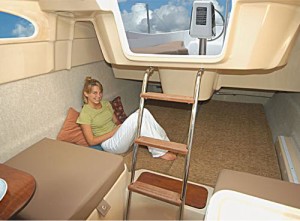 We use a hatch mounted residential 5500 BTU air conditioning unit that we run off a Honda 2000 watt generator.  We spend a lot of nights on the boat during the Florida summer and this combination will get the boat so cold that you need a down comforter.
We bought the boat used in 2012, and the previous owner bought it with nearly every option available.  The cockpit on the MacGregor 26M is a bit crowded due to the steering pedestal, but our optional back sanction seats help expand the seating area.  The boat also came wired for shore power, which helps simplify our power needs at the dock or running off the generator.  The previous owner bought nice sail covers, a bimini, Garmin chart plotter, roller furling, and an extra fuel tank.  A great feature of these boats is that they hold their value really well.  While we saved a little buying a used boat, in reality we paid the same as a new boat without the optional items.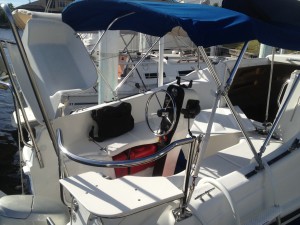 MacGregor stopped making trailerable sailboats in 2011, but Roger MacGregor's daughter, Laura Sharp and her husband Paul, moved to Florida and starting a new trailerable boat company called Tattoo Yachts http://tattooyachts.com/  They are making a 26 ft. boat that is nearly identical to the MacGregor 26 and they will soon release a really cool 22 ft. model that can be pulled by a smaller vehicles.
The MacGregor 26M  is our second trailerable sailboat.  The first was a 1985 MacGregor 25 named Moku Mea Inu.  Steve grew up sailing but did not own a sailboat until his late 30's.  While looking at a ski boat on Craigslist, he saw this 1988 sailboat that looked in great shape.  Although he did not need another toy to maintain, especially one with an engine, the price and condition was great. He figured he could always resell it after a few sails, if he was not using it.  He borrowed a truck from a friend to tow it to the lake where he was living and the adventures began.  After a few years of taking friends sailing on the lake, Steve met Brandy and they decided to try a trip to the coast; after that trip they were hooked.
After two years of amazing weekend trips all over Florida, we decided it was time to upgrade.  The MacGregor 25 only had 4.5 ft. of headroom and lacked much storage space, so it was a constant game of moving things around to live aboard for a weekend.  Putting the table/bed up and down every night was also a pain.  After suffering a serious back injury, Steve's 6 foot frame could no longer handle the constant stooping so the search was on.  We loved the MacGregor 25.  She was very stable with a 650lb lead swing keel; she had a nice large cockpit that really opened up with the tiller folded up, she was very forgiving to sail, and she would motor all day sipping gas.  Most of all, she was our first boat.  She taught us how to work as a team, taught Brandy to sail, and never complained the many times we ran her aground or hit numerous stationary objects. Selling her was very hard, but we knew it was time to grown into something new.  I sold her for $800 more than I paid for her.  I put about $1,700 in maintenance and upgrades over the three years.  So overall, $300 a year is great price / performance!
The search for the new boat was not hard.  We knew we wanted a MacGregor 26M, we trusted the brand and we liked the layout better than other trailerable boats.  Our key required features were 6 ft. head room, large permanent bed, and more room for storage.  We looked at all the various trailerable boats in the market and decided that the MacGregor had the best value and features combination.  After cruising on the boat for two years, we are very happy with the boat.  If we were in the market for another trailerable sailboat, we would buy a new Tattoo 26 without any hesitation.  The fun per $ spent is better than anything on the water.
The Sailing Rode / The Sailing Road