In this episode, we feature part one of our interview with the Radonic Family about their extensive trailer sailer cruising.  We have some more unusual sailing news and our product of the week will help you battle bugs.
Intro Chat
We have been on shore the last few weekends, but had some fun meeting up with our local listeners and newly ASA101 certified sailors Colby and Stacey for Colbys birthday.  We also celebrated Brandy's 20th High School Reunion.
Our next trip is over the Labor Day weekend to the Hammock Beach Resort and Marina in Palm Coast, Florida.
We are attending the Annapolis Sailboat Show October 6-9.  Let us know if you are attending and we will find a time to meet everyone.
We watched the Olympic Sailing races , congratulations to US Sailor, Caleb Paine, on winning a bronze medal in the Finn class.  Steve exchanged emails with Olympic commentator, Gary Jobson about the RSX sailboard races.  Gary even covered the question Steve asked in the live Olympic coverage!
Steve heard from his high school friend, Rocque, in Chicago who just completed his second Chicago to Mackinac race.  This year they had some rough weather.  Twenty boats left the race with damage and one boat sank after losing its rudder post.   See the picture below from Rocque's satellite weather, the yellow area on the right is Lake Michigan.  You can see the storms coming from Wisconsin.  Rocque said they got knocked down in 40 knots of wind, but they only sustained "cruiser damage" which happened when the microwave came lose and flew across the boat.   They finished the race in fifth place in the cruising class.  Rocque sails a 36ft. Island Packet Estero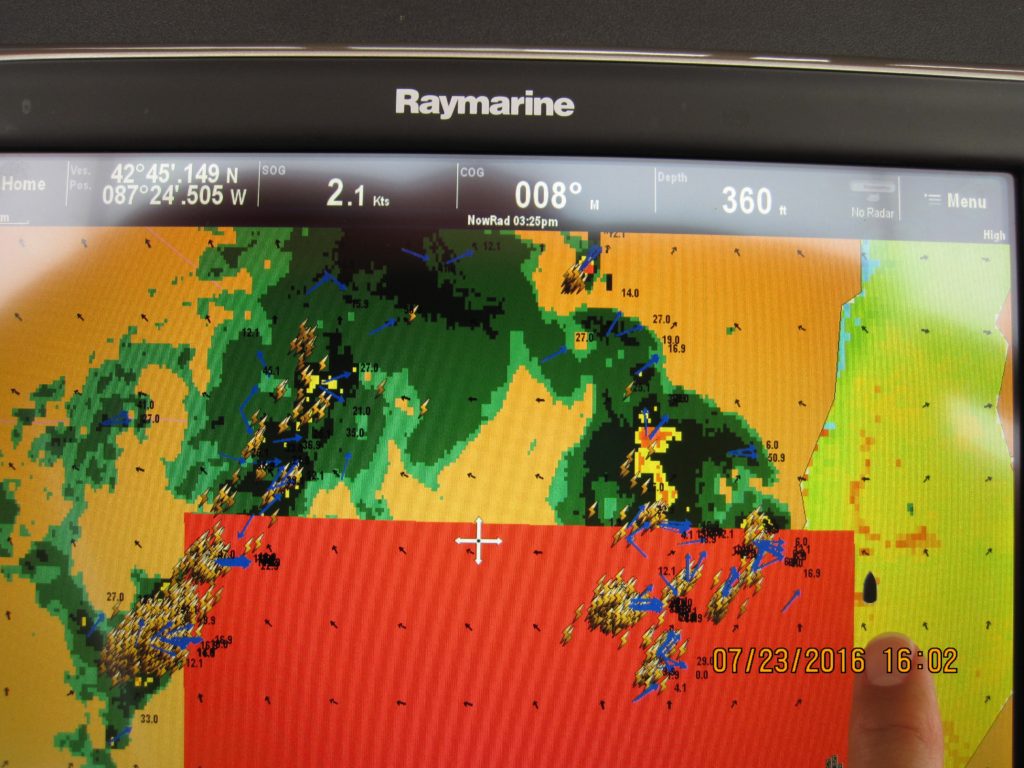 We released our video on our $200 boat air conditioning system.  We got some great comments that highlighted some security issues we did not consider.  Give it a watch and comment with any recommendations.
Steve read this article on the UK program that started charging consumers seven cents for each plastic grocery bag which resulted in a 90% reduction in plastic bag consumption in one year!   Steve decided to implement our own program at home to motivate us to stop using plastic bags so we started the "Bags to Boat Fund."   We owe $1 for every plastic bag we use.  The program has been a success and we have only used seven bags in the first month.  The downside is that we only put $7 in the boat fund.  We may change the program to add to the boat fund for each bag we avoid.   Send us your ideas!
The Sailing Rode Leukemia Fundraising
Brandy was diagnosed with leukemia in 2009.  She is one of the lucky survivors as her cancer has been treated so far by a great drug therapy.  That drug did not exist a few years before she was diagnosed and her prognosis would not have been as good before research created the drug therapy.
In 2010, we created a crazy boating event called Lake Conway Wipeout that we eventually turned into a charity event. We ran the event for 5 years and raised over $30,000 for leukemia research. The event grew too large to manage safely so we ended it in 2014. Here are a couple videos on the event.


Lake Conway Wipeout 2014 from ASofCFL on Vimeo.
We are asking for your help to support the annual fundraising for Leukemia and Lymphoma research.  It only takes a couple minutes and a few dollars make a big difference.
Click Here to Donate to The Sailing Rode Leukemia and Lymphoma Society Team
You can also join our team and do your own local fundraising and participate in the LLS Light the Night Walk in October.  All the details are on the site.
Also please consider registering to be a potential bone marrow donor at BeTheMatch.org   The second most common Leukemia is called AML and those diagnosed are not as lucky as Brandy.  AML patients currently has only a 25% chance of living five years from diagnosis.  Many die before they find a bone marrow donor.   You could easily save a life, please register to be a donor today.
Interview
In part one of our interview with the Radonics, they talk about their start in sailing and cruising on their Macgregor 26M trailer sailer.
The Radonics are based on Lake Ontario near Toronto Canada and they cruised extensively around Canada, New York, and Nova Scotia.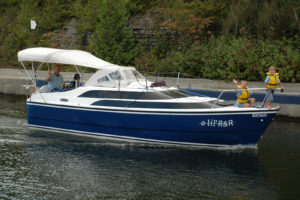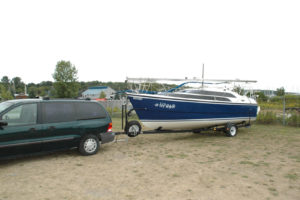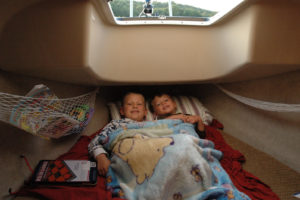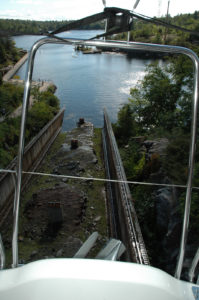 Check out the Radonic Family sailing blog here.
Sailing News

Product of the Week
We love our Thermacell, it creates a 15ft barrier that has been tested to eliminate over 90% of mosquito, no-see-um, sand fleas, and black flies. 
Here is our amazon affiliate link to the product

We also heard from Richard, a listener in the UK, about a bluetooth receiver, called Doosl that he really likes to use on the boat. It enables any stereo with a 3.5mm plug to be a bluetooth receiver.

Amazon Store
Please use our Amazon Affiliate links below for anything you buy on Amazon or look at over 90 items we have in our TSR Amazon store.  We use all the items on our boat and include notes of why we like them.  We also added over 40 sailing and cruising books we recommend.  You pay the same low Amazon price and we get a small commission.
Please help us Support Podcast

We need your help to spread the word about the Podcast.  Please share the podcast with your sailing & cruising friends and ask them to subscribe on iTunes, stitcher, or Google Play Music.  You can send them these links:
It also helps when you share the podcast links on social media and sailing forums.
Remember to tag your Instagram sailing related pictures with #thesailingrode
Send us your feedback on the show and any show topic ideas to Crew@TheSailingRode.com
Patreon
If you enjoy the podcast, you can support us on our Patreon site and get some special rewards. Check it out at this link:
https://www.patreon.com/TheSailingRode
How it works:  Patreon is designed for you to support your favorite content creators.  You can support our podcast creations by signing up for various levels of support.  You can set a maximum monthly amount so if we release a lot of podcasts in one month, you still only pay your maximum amount.  In return, you get some rewards for your support.  It is kind of like giving us a tip or buying us a drink after a good show.
Thanks for listening and all your support!  We wish you fair winds and hope to see you on the water soon.
–  Steve & Brandy
The Sailing Rode / The Sailing Road