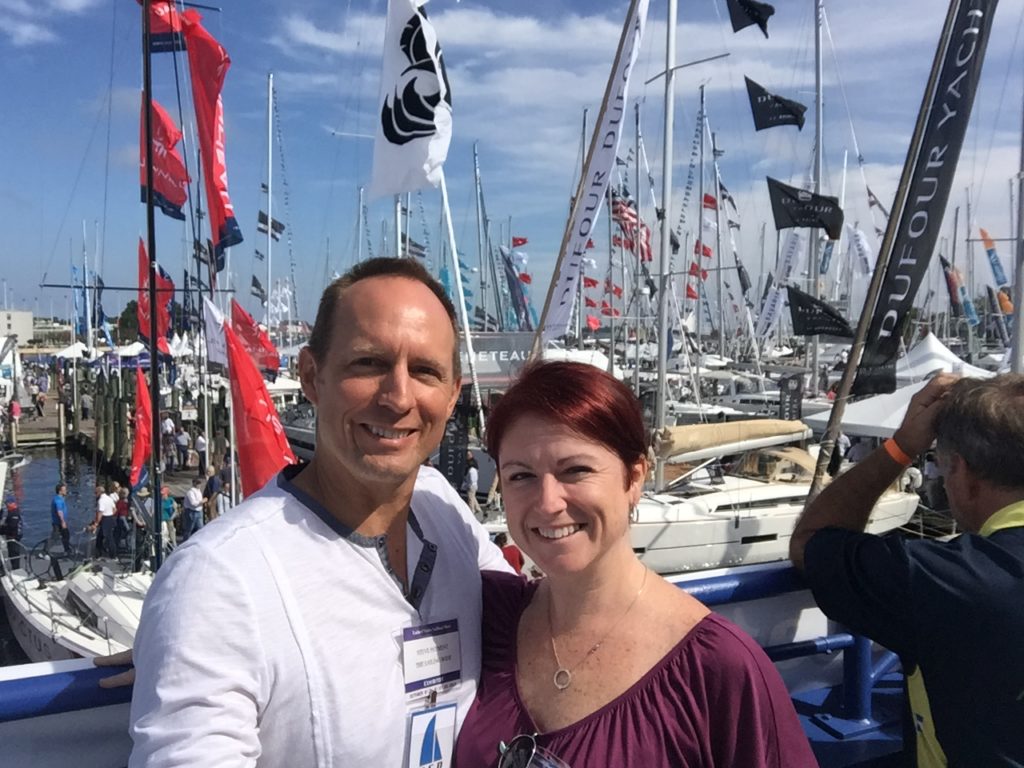 Listen to the podcast episode here or the smartphone app links below:
In this episode, we feature our trip to the US Sailboat Show in Annapolis, MD.  We have some more adventure sailing news and our products of the week will help you keep your boat fresh and mold free.
Intro Chat
We are back after an extended break from doing the podcast.  We have been very busy with work, travel and a couple big life events.
After we got back from the Annapolis show, we decided to fit in a week long sailing trip in the Florida Keys before year end.  We had a blast and we will feature that trip on a future show.
I was able to fix our broken throttle cable on our MacGregor 26M with a  50hp Honda engine.  It was not too difficult, the trickiest part was getting the throttle control out and back in the pedestal as it was a very tight fit.   Here is the cable I bought that has a 4″ minimum bend radius to help avoid the wear that happened to the old cable from raising the engine all the way up.  I bought a 12ft cable, but it ended up being a little long and I think 11ft would have worked a little better.
We also decided recently to buy a new house!  We found a place with a half acre lot so that we can keep our boat at the house instead of a local storage lot.  We will move in late December.
Steve also decided he was not busy enough so he started to build his first boat.  It will hopefully be a Storer Quick Canoe that he hopes to turn into a sailing canoe and possibly a sailing trimaran.
Check out these great sailing documentaries we watched recently, both are free to watch.  The first is Chasing Bubbles about a young sailor Alex Rust and his circumnavigation.  If you watch it, please give some support to his charity, it is great karma to support something that gives you enjoyment for free.  The second documentary is about App Applegate and his building of an 80 foot sailboat in the mountains of the Pacific Northwest. The password is on the screen, FreeRoam.  Both are great.
We imagine that most sailors in the northern climates have put their boats in storage for the winter so we will do our best to get you through the winter with some interesting sailing and cruising interviews and podcasts.
Our Trip to the US Sailboat Show in Annapolis
We attended the US Sailboat Show in Annapolis October 6th-10th, 2016.  It is a great show with a very large selection of boats and vendors.
We nearly cancelled the trip due to Hurricane Matthew targeting Florida as we were nervous about being away from the house during the storm.  It turned out that the storm stayed far enough off the Florida coast to avoid any damage in Orlando and the weather in Annapolis was great Thursday and Friday.  It rained all day Saturday and was overcast and windy on Sunday, but we still had a great trip.
We got the chance to meet Paul and Sheryl Shard of the Distant Shores video series.   They are in the process of building a Discovery 48 that will have a lifting keel similar to their last boat a Southerly 49.   Keep their awesome sailing / cruising  videos in mind for Christmas gifts, they are great to watch and fuel your cruising dreams.
We will eventually release a YouTube video on our visit to the Annapolis show, but for now we will share some links to the boats we thought were unique.
Pair of Jeanneau 54s different layouts, Jeanneau 58 new boat of 2017 dinghy dock under cockpit.
Amel 55, awesome boat
Gozzard 41, beautiful light blue hull, high quality woodwork, unique layout living room salon layout in vberth area.
Southerly 57, made famous by distant shores, went out of business, but back in production. Lifting keel, 10ft9in down, 3ft6in up.
Wauquiez 48 pilot saloon. Brandy did not like this one, strange layout and orange leather seats.  Very modern look and feel, would fit in well in Miami Beach

Solaris 50 – James Bond grey, sleek low deck.
Allures 45 and Garcia Exploration 45 – Jimmy Cornell owns a Garcia 45, aluminum, lifting keel, super tough boat.
Dragonfly trimarans – 32 and 28ft. Similar to our boat but as a multi-hull and much faster! Probably sails faster than we can motor.
Outbound 46 – ultimate monohull cruising boat, very high quality.
Halberg-Rassey 372 and 40 MK II great cruising boats very comfortable.
Passport 470 – Brandys favorite monohull for our needs. Center cockpit.

Gunfleet 58 – fancy cruising, lifting keel, draft 12ft down, 6ft up

Want a smaller boat but still have lots of money to spend – Alerion 33 express, beautiful boat, about as much room as our Macgregor 25 had below. Beautiful day sailer.

Ventura 23 sport boat concept – similar to our Macgregor 26
Rhodes 22 – well built trailer sailor, but like the comfort of our boat better.
The Fleet Reserve Club became the official meeting spot for The Sailing Rode. Great patio upstairs with a view of the whole show. Run by retired military volunteers, usually just open to military, but open to public during the show. Got to know Pat, Charlie and the rest of the guys well through out the show.

Met up with listeners each day at the show. Some just starting to sail who we could offer advice and some that have a lot of sailing experience who gave us great advice.

The Chesapeake Light Craft teardrop camper was really cool.  Check out all their boat kits.   

Andy Schell's swan 48, 59 north offshore adventures, On the Wind podcast. Great position at front of Ego alley, they barely fit boat due to the 8ft draft.

Outremer 51 catamaran – The is same brand that Sailing la Vagabonde will be getting in 2017, great boat, fast and comfortable cruiser,  we think Riley and Elayna will be very happy with their new boat.

Bali catamarans – garage door / open floorplan
Gunboat 57 – simply awesome, very modern but still comfortable
Get together with other sailing podcasters and youtubers, Jeffrey Wetting – Shooting the Breeze podcast, Teddy J from Sail Loot podcast, Kamau from iandiboats YouTube, and Vince from Sailing Nervous YouTube.  We coined it The first Sailing Multimedia Creators summit, or something like that. It was great to meet everyone.  Check out their content and give them some support.

Vendors – great selection, we bought some Kent / Onxy PFDs, with integrated harnesses. Around $100 & new Maui Jim sunglasses for Brandy and Costa sunglasses for Steve.
Brandy also bought a beautiful compass rose necklace from Maggie Lee Designs.  Maggie has a lot of nautical jewelry that would make great Christmas gifts.
Caught up with Greg Kutson, owner of Mantus Anchors, we gushed about how much we love our Mantus anchor that we bought last December. Greg showed us his newest products a portable scuba system and a waterproof rechargeable head light.

We got to meet the US Olympic sailing team medalists!

We also had some great food while were were in the Annapolis / Baltimore area.  Check these places out if you are nearby  – Willys Kitchen near Baltimore airport had the best breakfast we have ever had! VIN909 Wine Cafe has great local sourced ingredients and is just over the bridge from the show. The Iron Rooster just outside the show entrance had great homey cooking with interesting recipes.  Davis' Pub great socializing with other sailors and good food too – all these places are amazing.

We also enjoyed a few painkillers at Pussers, very tasty.
We had late flight home on Sunday so we decided to take a sail on the Schooner Woodwind that morning,  We signed up Saturday afternoon and was told it would be Sporty on Sunday.  It was overcast and 15-20kn winds, I took a turn at the wheel, and we had a great sail!  Captain Jen and her crew were fun and did a great job.
Sailing / Cruising News
Products of the Week
Kanberra Odor and Mold prevention Gel
Moso Natural Air Purifying Bag 
We recently bought these two products to prevent mold, mildew and orders on our boat.  They were recommended by sailing friends and have great ratings on Amazon.


Amazon Store
Please use our Amazon Affiliate links below for anything you buy on Amazon or look at over 90 items we have in our TSR Amazon store.  We use all the items on our boat and include notes of why we like them.  We also added over 40 sailing and cruising books we recommend.  You pay the same low Amazon price and we get a small commission.
Please help us Support Podcast

We need your help to spread the word about the Podcast.  Please share the podcast with your sailing & cruising friends and ask them to subscribe on iTunes, stitcher, or Google Play Music.  You can send them these links:
It also helps when you share the podcast links on social media and sailing forums.
Remember to tag your Instagram sailing related pictures with #thesailingrode
Send us your feedback on the show and any show topic ideas to Crew@TheSailingRode.com
Patreon
If you enjoy the podcast, you can support us on our Patreon site and get some special rewards. Check it out at this link:
https://www.patreon.com/TheSailingRode
How it works:  Patreon is designed for you to support your favorite content creators.  You can support our podcast creations by signing up for various levels of support.  You can set a maximum monthly amount so if we release a lot of podcasts in one month, you still only pay your maximum amount.  In return, you get some rewards for your support.  It is kind of like giving us a tip or buying us a drink after a good show.
Thanks for listening and all your support!  We wish you fair winds and hope to see you on the water soon.
–  Steve & Brandy
The Sailing Rode / The Sailing Road